Instructor Training
TestMasters specializes in developing outstanding teachers. We bring all new instructors to Los Angeles for a week of rigorous training before they ever teach a real class. Each day from morning until midnight they learn our comprehensive LSAT system and get valuable teaching practice. No other company devotes the time and resources that we do to training our instructors.
---
Course Methodology
At training, new instructors learn our methodology and the most effective ways to teach it. They spend over 40 hours absorbing the TestMasters curriculum in modules taught by some of our most experienced instructors, including Robin Singh, Dorothy Moneymaker, Rachel Sheffield, Palmer Heenan, Leigh-Ann Campbell, Hailey Evans, Steve Hayden, and Marissa Custren. When the week is over, new instructors are primed for the challenge of teaching a TestMasters class.
---
Skills Testing
Mastering the LSAT requires mastering a wide range of verbal and analytical skills, and TestMasters instructors need to have these skills down cold. So before joining the faculty, new instructors must pass a battery of oral and written tests that measure proficiency in argument evaluation, abstract logic, language interpretation, and other areas. For the past fifteen years, Steve Che has run all of the skills testing modules at training. He makes sure our instructors know their stuff.
---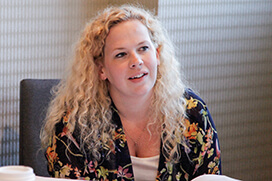 Mock Classes
The only way to know whether someone can teach is to see that person in action. Throughout the week, TestMasters trainees instruct mock LSAT classes ranging in size from 10 to 30 students. Veteran instructors observe these classes and give trainees feedback, and the mock students submit written evaluations of each trainee's performance. Excellence matters, which is why new instructors must prove they have what it takes before we assign them real classes. Only those who meet our high standards are certified to teach for TestMasters.
---
Continued Support
Instructor training is an ongoing process. Once they are certified, instructors gain access to extensive online materials that ensure they are prepared to teach. Our research and development department keeps the faculty up to date on new course content, and department members are available around the clock to answer questions. The support we give our instructors translates into higher scores for TestMasters students.