LSAT Course Creator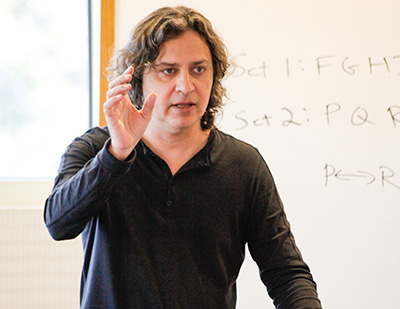 About Robin Singh
Robin Singh, the founder and CEO of TestMasters, is the world's leading expert on LSAT preparation. He has achieved more perfect LSAT scores than anyone else and has scored in the 99th percentile all twenty-five times he has taken the test. He has personally taught over 10,000 students in live class settings.
Born and raised in Tallahassee, Florida, Robin comes from a family of educators. His father has a doctorate in History and was a professor at Florida State University for 42 years. His mother, who has a doctorate in Classics, taught Latin at Florida High School for 29 years.
While a student at Duke University, Robin decided to apply to law school and began studying for the LSAT. To prepare for the test, he obtained old exams released by the Law School Admission Council. He worked carefully through each exam to identify and learn from his mistakes. Through this process, Robin realized that the LSAT was a skills-based test and invented techniques for answering the questions. Using these techniques, he got a perfect score on the December 1988 LSAT.
After graduating from Duke in 1989 with degrees in History and Latin, Robin moved to Los Angeles, where he founded TestMasters in 1991. The test-taking methods he had developed in college formed the basis of the TestMasters LSAT course. The course included unique diagramming techniques that enabled students to solve questions visually, as well as a comprehensive classification system for logical reasoning questions. The TestMasters curriculum differed radically from everything else on the market.
Robin's course helped students achieve impressive score increases, and his company grew rapidly through positive word of mouth. By the mid-1990's TestMasters was the most popular LSAT course in Los Angeles. In 2000 Robin began offering classes outside California, and by 2004 students in all fifty states were taking his course (in Texas he does business under the name ScorePerfect). Today, TestMasters is the world's second-largest LSAT preparation company.
Robin remains passionately involved in the company he created. In addition to serving as CEO of TestMasters and ScorePerfect, Robin is Director of Research and Development, and works continually with his R&D team to add new content to the course. He also oversees the hiring and training of all TestMasters and ScorePerfect instructors.