Margaret Helmke
Has taught TestMasters courses in St. Louis and Minneapolis
Scored a 173 on the LSAT
Olivia Schomburger
Has taught TestMasters courses in New York, Colorado, and Arizona
Scored a 176 on the LSAT
Matthew Peterson
Has taught TestMasters courses in Alabama, Massachusetts, Rhode Island, and Louisiana
Over 1000 hours of TestMasters teaching experience
Hailey Evans
Eight years of TestMasters teaching experience
Has taught over 800 TestMasters students in DC, Virginia, Maryland, Florida, and Rhode Island
Scored a 180 on the LSAT
Trains new TestMasters instructors
Randon Herrera
Over 300 hours of TestMasters teaching experience
Has taught TestMasters courses in Fullerton, Irvine, and San Diego
Rachel Sheffield
Fifteen years of TestMasters teaching experience
Has taught for TestMasters in Missouri, South Dakota, Kansas, New Mexico, Utah, Washington, California, and Hawaii
Director of TestMasters Academic Support
Trains new TestMasters instructors
Jamie Machamer
Thirteen years of TestMasters teaching experience
Has taught the TestMasters course 51 times
Instructor for all TestMasters Nashville classes since 2007
Michael Sutherland
Instructor for all TestMasters Fort Myers classes since 2014
Over 1100 hours of TestMasters teaching experience
Jake Keester
Over 500 hours of TestMasters teaching experience
Has taught TestMasters courses in Davis, Sacramento, and Chico
Leigh-Ann Campbell
Nine years of TestMasters teaching experience
Has taught the TestMasters course 68 times
Has instructed over 800 TestMasters students in Atlanta, Athens, and Auburn
Trains new TestMasters instructors
Lindsey Bunting
Four years of TestMasters teaching experience
Has taught TestMasters courses in Athens, Atlanta, and Druid Hills
Anthony Meni
Eleven years of TestMasters teaching experience
Has taught the TestMasters course 66 times
Has instructed over 2000 TestMasters students in DC, Virginia, and Maryland
Wesley Thorp
Over 500 hours of TestMasters teaching experience
Has instructed over 150 TestMasters students in Michigan and Florida
Andy Aguilar
Six years of TestMasters teaching experience
Has instructed over 500 TestMasters students in DC, Virginia, Maryland, Pennsylvania, New Jersey, Florida, Illinois, Missouri, Colorado, Arizona, and California
Has taught the TestMasters course 37 times
Sam Rosenberg
Over 800 hours of TestMasters teaching experience
Has taught for TestMasters in Massachusetts, New Jersey, Pennsylvania, and Florida
Scored a 176 on the LSAT
Morgan Dodd
Teaches TestMasters courses in Norman and Tulsa
Over ten years of TestMasters teaching experience
Meghna Batra
Three years of TestMasters teaching experience
Has taught TestMasters courses in North Carolina, Virginia, Maryland, and the District of Columbia
Scored a 180 on the LSAT
Steve Hayden
Teaches TestMasters classes in Gainesville and Orlando
Has taught the TestMasters course 63 times
Member of the TestMasters Research and Development team
Trains new TestMasters instructors
Zac Henderson
Has instructed over 300 TestMasters students in Chicago, Evanston, and Madison
Has taught the TestMasters course 21 times
Evaluates prospective TestMasters instructors
Austin Stack
Nine years of TestMasters teaching experience
Has taught the TestMasters course 31 times
Has instructed over 750 TestMasters students in California, DC, Maryland, Virginia, Michigan, Massachusetts, and Florida
Lance Bowman
Four years of TestMasters teaching experience
Has taught TestMasters courses in New York, Connecticut, and Florida
Charles Eaton
Teaches TestMasters classes in Hartford and New Haven
Scored a 175 on the LSAT
Shaun Haines
Has taught TestMasters courses in DC, Virginia, Maryland, and Illinois
Over 700 hours of TestMasters teaching experience
Scored a 178 on the LSAT
Parker Winship
Has instructed over 400 TestMasters students in New York and Alabama
Has taught the TestMasters course 27 times
Scored a 177 on the LSAT
Marissa Custren
Has instructed over 1300 TestMasters students in New York, Florida, New Jersey, Pennsylvania, Indiana, and California
Has taught the TestMasters course 51 times
Six years of TestMasters teaching experience
Trains new TestMasters instructors
Debra Freeman
Has instructed over 700 TestMasters students in Los Angeles, Pasadena, Long Beach, and Fullerton
Has taught the TestMasters course 35 times
David Kolenda
Has taught TestMasters courses in California, Michigan, and Florida
Over 600 hours of TestMasters teaching experience
Scored a 180 on the LSAT
Astrid de Linde
Has taught TestMasters courses in New York, Pennsylvania, DC, Michigan, and California
Over 1000 hours of TestMasters teaching experience
Doug Lawrence
Twenty years of TestMasters teaching experience
Has taught the TestMasters course 118 times
Has instructed over 3000 TestMasters students in California
Tea Skela
Has taught TestMasters courses in Massachusetts, New Jersey, and California
Scored a 175 on the LSAT
Amelia Brasher
Fourteen years of TestMasters teaching experience
Has taught the TestMasters course 66 times
Has instructed over 1800 TestMasters students in California, Georgia, Florida, New York, and Canada
Taylor Britt
Over 300 hours of TestMasters teaching experience
Has taught TestMasters courses in Colorado, Arizona, and Nevada
Scored a 177 on the LSAT
Janet Lee
Has taught TestMasters courses in Santa Barbara and San Luis Obispo
Member of the TestMasters Research and Development team
Julie Bontems
Four years of TestMasters teaching experience
Has taught TestMasters courses in New York and Florida
Michael La Masse
Over 3000 hours of TestMasters teaching experience
Has taught TestMasters courses in California, Oregon, Washington, New York, Connecticut, and Florida
Scored a 177 on the LSAT
Sam Lehman
Has instructed over 1000 TestMasters students in Ohio, Illinois, and California
Has taught the TestMasters course 35 times
Scored a 179 on the LSAT
Trains new TestMasters instructors
Steve Che
Twenty years of TestMasters teaching experience
Has taught TestMasters classes in California and Arizona
Member of the TestMasters Research and Development Team
Trains new TestMasters instructors
Asher Kalman
Over 500 hours of TestMasters teaching experience
Has instructed over 200 TestMasters students in Florida, New York, and California
Laura Ferro
Eight years of TestMasters teaching experience
Has taught TestMasters courses in Florida, New York, and Pennsylvania
Amy Foo
Over 800 hours of TestMasters teaching experience
Has instructed over 250 TestMasters students in California, Arizona, Florida, and New York
Pam Black
Seventeen years of TestMasters teaching experience
Has taught the TestMasters course 113 times
Has instructed over 2000 TestMasters students in Alabama, North Carolina, Mississippi, Kentucky, and Florida
Richard Slaton
Eleven years of TestMasters teaching experience
Has taught the TestMasters course 43 times
Has instructed over 1400 TestMasters students in southern California
Emma Scott
Has taught TestMasters courses in Florida, Massachusetts, New Jersey, Illinois, Missouri, and California
Over 1000 hours of TestMasters teaching experience
Maya Kieffer
Has instructed over 400 TestMasters students in Florida, Illinois, Massachusetts, and California
Has taught the TestMasters course 20 times
Dorothy Sluszka
Eight years of TestMasters teaching experience
Has taught the TestMasters course 24 times
Has instructed over 500 TestMasters students in New York, New Jersey, Pennsylvania, Maryland, Michigan, and Florida
Lloyd English
Has taught TestMasters courses in DC, Richmond, Norfolk, and Williamsburg
Nine years of TestMasters teaching experience
Scored a 175 on the LSAT
Keiko Osumi
Has taught TestMasters classes in Florida and New Jersey
Scored a 172 on the LSAT
Emily Born
Has instructed over 200 TestMasters students in New York, Florida, and California
Has taught the TestMasters course 11 times
Nate Davis
Eight years of TestMasters teaching experience
Has taught the TestMasters course 24 times
Teaches TestMasters classes in Denver and Boulder
Natalie Storey
Has taught TestMasters courses in California, Michigan, Minnesota, Idaho, and Nevada
Scored a 180 on the LSAT (answered all 101 questions correctly)
Member of the TestMasters Research and Development team
Dorothy Moneymaker
Has instructed over 5000 TestMasters students in southern California
Has taught the TestMasters course 133 times
Over 20 years of TestMasters teaching experience
Trains new TestMasters instructors
Jake Elkin
Over 700 hours of TestMasters teaching experience
Has taught TestMasters courses in New York and New Jersey
Scored a 178 on the LSAT
Amanda Mundell
Over 1500 hours of TestMasters teaching experience
Has taught over 250 TestMasters students in California and Massachusetts
Jeff Benjamin
Fifteen years of TestMasters teaching experience
Has taught the TestMasters course 66 times
Scored a 180 on the LSAT
Member of the TestMasters Research and Development team
Leah Milbauer
Seven years of TestMasters teaching experience
Has taught TestMasters courses in New York, Illinois, and Wisconsin
John Sullivan
Has taught TestMasters courses in Michigan, Indiana, Iowa, Oklahoma, Florida, and DC
Ten years of TestMasters teaching experience
Pete Ternes
Thirteen years of TestMasters teaching experience
Has taught TestMasters courses in Illinois, Indiana, Ohio, Pennsylvania, Michigan, Minnesota, South Dakota, Arkansas, Nevada, Washington, and Missouri
Palmer Heenan
Has taught over 1200 TestMasters students in DC, Virginia, California, Pennsylvania, Georgia, Florida, North Carolina, and Canada
Has taught the TestMasters course 56 times
Trains new TestMasters instructors
Chloe Hurley
Has instructed over 750 TestMasters students in Manhattan
Has taught the TestMasters course 23 times
Scored a 175 on the LSAT
Shannon Sanders
Seven years of TestMasters teaching experience
Has taught the TestMasters course 37 times
Has instructed over 600 TestMasters students in DC, Maryland, and Virginia
Sabrina Jacks
Fourteen years of TestMasters teaching experience
Has taught the TestMasters course 94 times
Instructor for all TestMasters New Orleans and Baton Rouge classes since 2006
Dan Parino
Has taught TestMasters courses in Los Angeles, Pasadena, Fullerton, and Long Beach
Over 2000 hours of TestMasters teaching experience
Scored a 176 on the LSAT
Masjo Ward
Has instructed over 500 TestMasters students in California, Nevada, and Florida
Has taught the TestMasters course 25 times
Bryan Burgoon
Over 500 hours of TestMasters teaching experience
Has taught TestMasters courses in California, Florida, Virginia, and North Carolina
Genevieve Parshalle
Over 1000 hours of TestMasters teaching experience
Has taught over 500 TestMasters students in DC, Massachusetts, Connecticut, and California
Scored a 178 on the LSAT
Browse More Than 100 LSAT Instructors (view directory)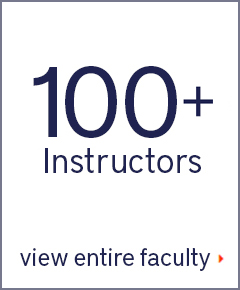 The Greatest LSAT Faculty Ever Assembled
The best LSAT instructors in the business work for TestMasters. Every member of our faculty has scored in the 98th percentile or higher on an officially administered LSAT and, unlike other companies, we post our instructors' official score reports on our website so that you can verify their scores yourself.
But just being great at the LSAT isn't enough to work for us. Our instructors must possess the skills necessary to help our students crush the test: the charisma to make class fun and engaging, the desire to go the extra mile for each student, and the ability to make even the most challenging concepts easy to understand.
Our multi-million dollar instructor payroll—by far the largest of any company in the industry—enables us to attract the most talented applicants, less than 10% of whom are ultimately selected to join our team. Successful candidates go through a rigorous screening process, including multiple teaching auditions in front of a live class, followed by an extensive training period. Excellence matters, which is why new instructors must prove they have what it takes before we assign them classes. Only those who meet our demanding standards are certified to teach for us.